September 11, 2011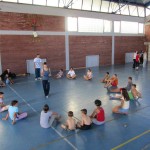 I have three words to describe the first week of the RINGO/RDDC program: new, laughter, potential.
NEW.  Although I have worked in countries around the world and have also carried out projects in BiH before, this collaborative project is certainly "new" for me, and I gather, for most of our participants.  Each day of training I have the chance to work with children who have limited opportunities and face uphill struggles to meet their basic needs of life, and then I work with educated, talented and energetic youth who will shape the future of Mostar.  The common denominator, however, is a love of dance.
After one week of training, our classes at B-Dance are filled with aspiring dancers who are quickly becoming acquainted with a variety of " new" dance techniques: jazz, ballet and hip hop.  For some of them, it is the first time they have ever taken a dance class taught by professional instructors.  For others, they are learning a new genre of dance and the vocabulary that accompanies it.  Part of my teaching methodology is also to equip our participants with an intellectual understanding of why movements, stretching exercises and combinations are crafted in a particular way.  It is a delight to teach this group because they are so eager to acquire new knowledge – both physically and mentally.
LAUGHTER.  One thing I have learned from teaching in all sorts of places is that laughter is part of learning.  For me, the source of much of the laughter comes from my rather inept local language skills!  Each day I am garnering more of a vocabulary, but it still produces multiple, unattended jokes.  For example, I recently used the phrase "stretch your heels" when intending to say "point your toes."  Now, which is a little late, I know the word for heels is not the same as the word for toes!
From the children at Egipatsko Selo to our youth at B-Dance, laughter is proving to be another common denominator.  I actually believe that one of the reasons everyone is learning so much is because they are having fun.
POTENTIAL.  The evidence of "potential" is particularly inspiring from our first week of training.  I am really impressed how quickly our participants are improving.  From the first day of classes to the sixth day, some dancers have noticeably become more flexible and much stronger.  Those improving the fastest are those that diligently come to class each and every day with a positive attitude and an inner determination.  They are also better acquainted with the jazz-ballet vocabulary and can repeat the names of specific steps as well as explain the differences between ballet and jazz movements.  If this can be achieved in just six days of training, I am anxious to see our results four weeks from now!
So, after one week in Mostar, I think we can now definitely say we are doing something that is new, fun and has lots of potential!