September 14, 2011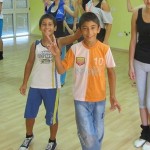 I have taught youth all around the world, but today I was newly reminded of the amazing strength and potential of children. The "reminder" was two little boys from Egipatsko Selo ("Egyptian Village"): Benes and Soud.

The RDDC/RINGO dance program is currently serving two populations in Mostar: children between the ages of 5 and 14 at Egipatsko Selo and youth between the ages of 16 and 23 at B-Dance. Although classes have happened daily at each location for 10 days now, none of the children have met the older youth…until today!
Working closely with Project Coordinator Tanja Raic Tarcuki and youth member Sanja Elezovic, I chose two of our most promising and diligent children at Egipatsko Selo and asked them if they would like to observe our training at B-Dance. Soud, a little boy who is eight years old, was the first student to master all of our basic choreographic steps. Benes, a 13 year-old boy with a permanent giant smile, has been the most consistent with attendance and displays a high degree of intelligence and curiosity. (His favorite school subject is Mathematics!) Nonetheless, I wasn't sure if they would have the interest or the courage to say "yes" when invited to observe this older dance group in a different part of the city. I was surprised. Not only did they yell out "yes", they said: "can we dance with them?" To which Tanja, Sanja and I shouted back: "Of course!"
Thus, after our training workshop at Egipatsko Selo, we waited while Soud and Benes changed into matching blue jean shorts and put on their best looking t-shirts and sneakers to join us "in the city." On the car ride from Egipatsko Selo to B-Dance, the two boys pointed to buildings they recognized and chatted away about different hip hop and jazz-ballet dance moves. Before entering the dance studio, they had a quick Coca-Cola and ice cream. Actually, Benes ordered chocolate ice cream and they shared it!
I was imagining what our older participants might think when they saw two tiny boys come in to take their class. My worries soon dissipated when we started our group warm-up. With B-Dance filled with 30+ people, Benes and Soud fit in perfectly. They stood right behind me in the front row for our stretching sequence and tenaciously worked to follow each exercise until they could do it correctly. This, indeed, is the attitude of every successful professional dancer around the world. When we finished the 40 minute warm-up exercises, the entire group of participants burst into applause for our two little newcomers. Now, Soud also had a permanent giant smile on his face!
On the drive back to Egipatsko Selo, Tanja asked the boys if they would like to come to training again at B-Dance. They both, without hesitation, said, "yes, tomorrow!" We now have two new members of our youth group.
Benes and Soud remind me that when children are asked to rise to a new challenge – one that often seems daunting and difficult – they can succeed. With the support of peers, teachers and other youth, self-advancement is clearly possible…and may produce a giant smile.