Darfur (2008)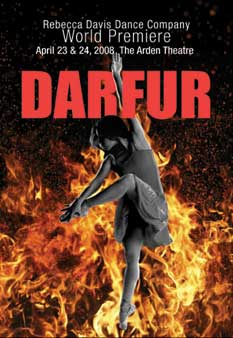 "The very sense of life each scene gives depicts a near mystical dancing that combines with a day-to-day struggle to achieve a poignancy unknown by the Western world." -Jim Rutter, Broad Street Review
On April 23 & 24, 2008, Rebecca Davis Dance Company premiered DARFUR, a powerful and engaging multi-media modern dance production. The modern dance production raises awareness and funds for victims of genocide and is based on the Emmy-nominated documentary film and book The Devil Came on Horseback.
Serving as an African Union military observer, Brian Steidle spent six months in war-torn Darfur and recorded his experiences in the book and documentary film "The Devil Came on Horseback." Steidle's story is told by Rebecca Davis Dance Company in hopes that if people are no longer blind to the terrible conflict in Sudan, they will be moved to learn how they can support lasting peace around the world.
Each time Rebecca Davis Dance Company presents DARFUR, the audience plays an important role in aiding victims of genocide. Proceeds from ticket sales or presenting fees are donated to the non-profit organization Global Grassroots (www.globalgrassroots.org). Working to aid disadvantaged communities worldwide, Global Grassroots goes beyond donations of food, supplies or shelter. The organization invests its resources in individuals and communities, who, despite deep social and economic hardship, offer ideas for lasting social change. Working especially to support the women of disadvantaged countries, Global Grassroots strives for sustainable solutions motivated from within the community itself.
The ballet is performed by a cast of thirteen professional dancers and is set to alternative rock music by various artists, including: A Perfect Circle, Apocalyptica and Damien Rice.
Behind the dancers, a special multi-media Second Life video plays out. The video is the creation of Human + Nature, the producer of socially conscious film and video that inspires its audience to work for a better world.
In asking Artistic Director Rebecca Davis why she decided to choreograph a ballet about Darfur, she says: "this is a human issue, and we all have the ability and the responsibility to make a difference. It's my hope that no-one can learn about the atrocities in Darfur without feeling a moral obligation to help."