RDDC Blog: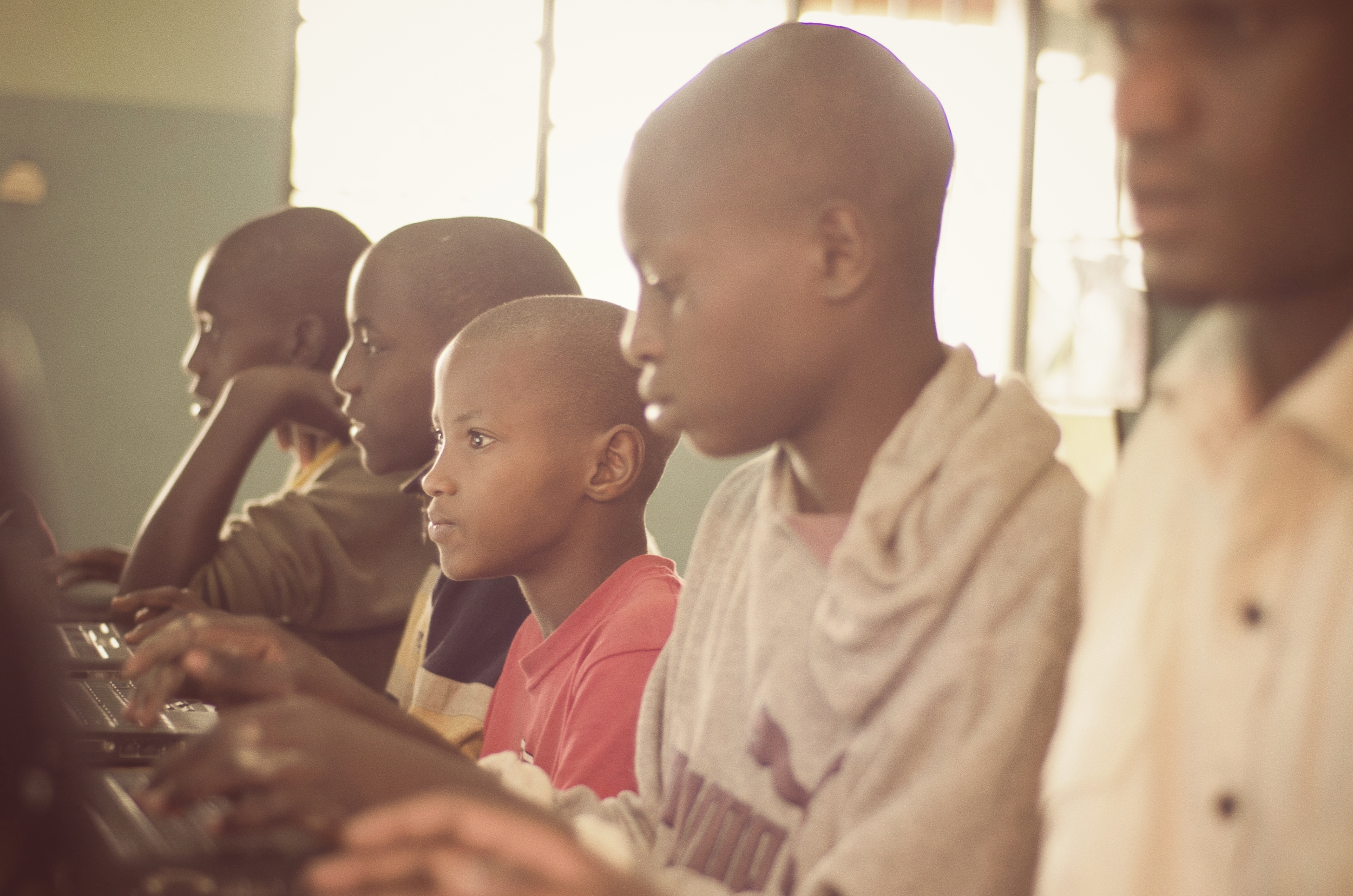 April 6, 2015
Rwanda
By Eugene Dushime
"What man of you, having a hundred sheep, if he has lost one of them, does not leave the ninety-nine in the open country, and go after the one that is lost, until he finds it?" said the Bible.
That question was in my head when I was thinking about the life of vulnerable children I met in different circumstances. Today is the last day of March 2015. March 2015 is over now and we are waiting for March 2016, March 2017, as time goes on. We will never see March 2015 again but the memory of what happened will remain, and maybe some time in the near future we might need to skim through the letters in a book of March 2015.
The number of children being served by MindLeaps is increasing. MindLeaps is becoming a bigger family each year. Sending some vulnerable children to Boarding School or to Vocational Training School while providing a variety of useful skills at the MindLeaps Center is a major focus of MindLeaps. March 2014, MindLeaps opened the center in Kigali and started with a sample of fifteen street children. Now the center counts forty-five street children in and out the door everyday.
Rejected by his parents, Moise was always wondering what should be his future. Discouraged, he was not a regular dance and IT student in the beginning, but he kept trying hard until teachers realized that Moise was the top in his class. Moise was part of the first class of MindLeaps students when we signed a partnership with a local NGO called FidesCo. Moise never stopped trying to learn.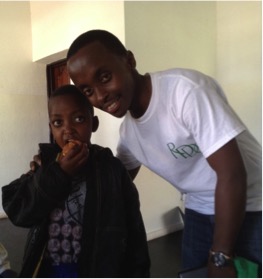 December 29, 2014
Rwanda
By Eugene Dushime
There are things that are sometimes left undone and there are things that are sometimes left unsaid. But, using the magic word "Thank you" is something that can't ever be forgotten at MindLeaps.  This year, we celebrated Christmas with our students, who are homeless, and gave out presents while saying "Thank you for your hard work and fight against poverty."
On Friday, December 19th after Dance class, our kids had a short meeting with me. We evaluated our progress in each program. I acknowledged the change they have shown in the last nine months and they promised to achieve even more next year. I also announced to them that Dance, IT and the English program will be suspended for two weeks because it was time for them to take a break and get more energy for 2015. I told them that MindLeaps doors will remain open for those who want to come to shower and wash their clothes during the break.
After my meeting with the kids, our little party started. MindLeaps' staff, including Fulbrighter and English teacher Keilah Creedon, shared soft drinks and bread with the children and our volunteers from Agahozo Shalom Youth Village.
December 20, 2014
By Eugene Dushime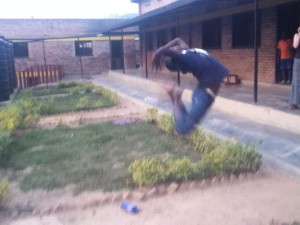 What makes November a great month for MindLeaps is that this period always brings new energy, ideas and changes. Since MindLeaps (formerly RDDC) opened its doors in Rwanda, at least a new project or a program is implemented each November. Last month was charged with so many activities accompanied with great emotions and intercultural exchange. It is difficult to describe all activities done last month in only one blog post, but here is a summary of three main ones in three short stories.
Story 1
First, Rebecca Davis and Nicole Corea arrived in Rwanda in the beginning of November carrying very big and heavy suitcases. As I know how much both Rebecca and Nicole love Rwanda – especially the climate and the children – I thought they had decided to pass the rest of their lives in the country of a thousand hills with that luggage!   But I was wrong; they were carrying computers (laptops) for our IT skills program as well as other materials needed to serve children at our center. WiFi was also installed and more children were excited to learn computers skills.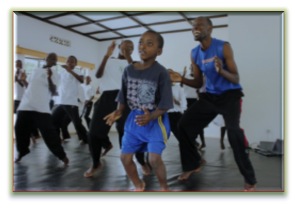 October 29, 2014
Eugene Dushime
Boys smile and laugh as they chaine turn and pas de chat across the dance floor. This is not a typical dance class in a small dance studio; it is a safe space where street children and vulnerable youth learn social values and are prepared to reintegrate into their community. Why dance and IT training? What do these boys feel that they are gaining from their time spent here? What sort of change are we creating?
Through our dance curriculum, children develop eleven cognitive skills: memorization, commitment, teamwork & collaboration, respect & tolerance, retention & recall of information, physical strength, self-esteem, creativity & self-expression, coordination, language, and concentration. There are a number of ways we could teach these skills, but we believe that dance is a particularly powerful way to help the children master and own these skills because dance is an expressive art form that integrates the mind, body, and spirit. Physically and mentally, the boys are challenged to follow instructions, exercise consistently, and stick to a routine.
October 2, 2014
By Eugene Dushime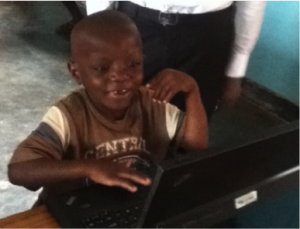 Omar is five years old.
He never went to the street like other kids served by RDDC, but he wished he could just to escape from being tortured by his father. One day, he was taken from his home to the hospital after he was beaten unconscious by his father.
After medical treatment, Omar didn't have anywhere to go. Omar was brought to FidesCo's Centre for Rehabilitation of Street Children in Kigali, and this is where I met this sweet kid while I was supervising the IT Class. Omar was one of the newcomers at the Centre. I approached him and asked his name. Then I sat down and this conversation started:
"My name is Omar," he replied.
Omar asked me my name in return.
"My name is Eugene," I responded.
September 24, 2014
By Eugene Dushime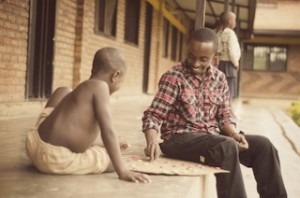 Since 2011, RDDC has been running an annual program called "Train The Trainers" in Rwanda. This past August, the annual program was held again. It was divided into two categories: training RDDC/Rwandan dance teachers in contemporary technique; and training Rwandan staff in fundraising and grant writing.
The goal of Train The Trainers is to improve the results achieved by our local staff through RDDC's different activities that serve vulnerable kids.
This year, the dance training introduced new elements of contemporary dance technique to RDDC teachers in Rwanda. Contemporary will serve as an additional genre of dance for our teachers to use while working with diverse groups of children. In this training, we also examined how the methodology used in dance classes carries over to the IT training, which is also offered by RDDC to street youth. Together, this provides a systematic approach to behavioral change. Special attention was given to the eleven cognitive skills targeted by RDDC and considered essential to re-integrate children into the formal education system.
My team, the street youth and I are deeply grateful to Caitlyn Casson and Grace French for their energy and time invested in this year's Train The Trainers. This was their first trip to Rwanda, and they both did an amazing job!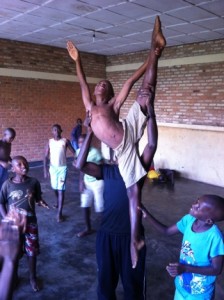 Eugene Dushime is the Country Director for RDDC Rwanda. He is a former contemporary dancer and assists with the RDDC program in Guinea as well.
September 10, 2014
By Caitlyn Casson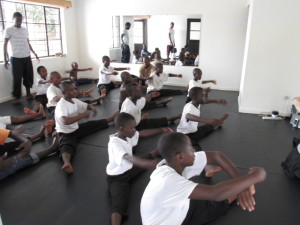 When preparing for my trip to Rwanda, I decided to bring some small parting gifts with me to give to my students when I left. I wasn't sure what would be the right gift for adolescent boys who live on the street, but I knew where to go to look for it: my favorite store, FIVE BELOW.  One can pretty much find anything that is trendy and considered "cool" by teens around the world at FIVE BELOW. And indeed, I found something…
The organization I worked for in Rwanda, RDDC, is building an IT Classroom alongside the community dance center to help these street children develop their vocational skills in one of the fastest growing industries in Rwanda today: computer science and information technology.  As these teens start to learn in a formal setting, they will need the typical "back to school" supplies that we buy every year in the USA.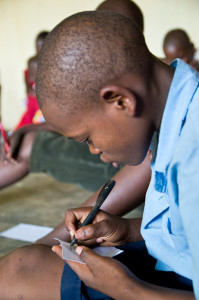 So, I decided to give these street youth something that would prepare them for their new school challenges and also be "cool": brightly colored pencils, pencil sharpeners and paper from FIVE BELOW.
The boys' reaction to this gift had both the shock of receiving a gift and the joy of ownership, something they could call their own. Naturally, their joy brought me joy, but it was not until my return to the USA that I realized the impact of this simple gift.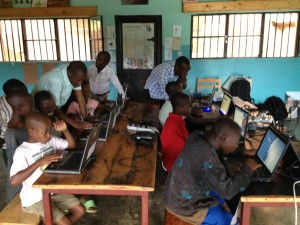 To most American children a single pencil, even with the addition of a really cool, neon colored sharpener, is a "standard" gift. But, to most of my students in Rwanda who have never held, and maybe never even seen a pencil sharpener before, this simple object symbolized the opportunity to "learn" and be "normal" – no longer an orphan or an outcast living on the street.
I never thought a pencil could suggest an end to poverty.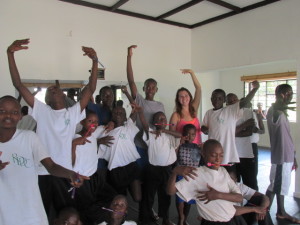 Caitlyn Casson is an instructor with RDDC and has traveled with the company to Bosnia-Herzegovina and Rwanda.  She holds a BFA from University of South Florida and now works as a freelance contemporary dancer in New York.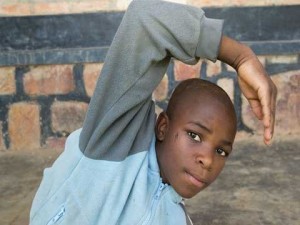 July 31, 2014
By Eugene Dushime, Country Director for RDDC-Rwanda
"Everyone can fall anytime but it is the courage to rise up which opens doors to new life" –  (Eric Mugiraneza, one of RDDC's former street children now enrolled at boarding school)
As I wrote a long time ago, the first day RDDC met Eric, he was so hopeless. Eric was always thinking that he was going to die soon, so for him, there was no reason to work hard. His mother died beside him. This is how Eric interpreted the feelings of his memory to me two years ago: "When my mother died, I was so young and so terrified, thinking that I was going to die the following day – just a few hours after her," said Eric.
Eric is now attending one of the best boarding school in Rwanda (Sonrise Boarding School). July 24th was the end of the second term for primary and secondary schools in the country.
Eric was so excited when I saw him on the last day of the term.
I asked, "Why are you so happy?"
Eric took the report card from his suitcase and gave it to me.
"What?!" I exclaimed. "Wow, Eric, congratulations!"
Eric said, "You see? I told you that this term I will progress!"
Eric moved from 51% to 61%. (Now, remember this is a child who was living on the streets and practically illiterate less than two years ago.) Eric once hated any kind of activities because he was so desperate and hopeless; now, he is happy about his progress.
I asked Eric how he can make such a dramatic change.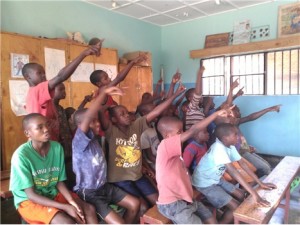 July 5, 2014
Eugene Dushime
Since RDDC started its partnership with FidesCo Rwanda, a lot of kids have gone through our program. At first, it was one of the hardest challenges that we faced. We couldn't imagine how the first group had to exit the program in order for new kids to join. We would receive a new group of kids just as our former students were beginning to show true cognitive improvement. The new kids were totally different from the previous – new faces, different attitudes and unknown behavioral patterns.
When a new group comes, we try to explore the life they have come from – street life. We learn how to handle each one of them. It's pleasant and interesting to interact with them and discover their different personalities. That doesn't happen immediately; it takes a lot of work to get them to open up to you – and smile. Few at first respond, and others don't seem to understand what you are up to, so you have to keep on doing it sincerely because some of them think that people smile only when they want something from you. Some think they are not worthy; they cannot amount to anything at all. However, through our dance classes, I came to realize that personal change is not only brought by big things; if compliments and encouraging words come continuously and patiently, change can be achieved if one is willing.
In her TEDxFulbright Talk at the US Chamber of Commerce in Washington, DC, Rebecca Davis outlined how she transitioned from a high school student who loved literature to founding an organization that teaches dance to street children in Africa.
TEDxFulbright Talk at US Chamber of Commerce, April 2014