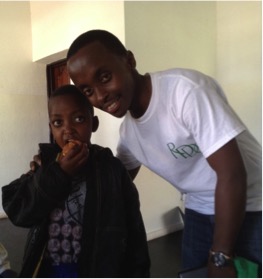 December 29, 2014
Rwanda
By Eugene Dushime
There are things that are sometimes left undone and there are things that are sometimes left unsaid. But, using the magic word "Thank you" is something that can't ever be forgotten at MindLeaps.  This year, we celebrated Christmas with our students, who are homeless, and gave out presents while saying "Thank you for your hard work and fight against poverty."
On Friday, December 19th after Dance class, our kids had a short meeting with me. We evaluated our progress in each program. I acknowledged the change they have shown in the last nine months and they promised to achieve even more next year. I also announced to them that Dance, IT and the English program will be suspended for two weeks because it was time for them to take a break and get more energy for 2015. I told them that MindLeaps doors will remain open for those who want to come to shower and wash their clothes during the break.
After my meeting with the kids, our little party started. MindLeaps' staff, including Fulbrighter and English teacher Keilah Creedon, shared soft drinks and bread with the children and our volunteers from Agahozo Shalom Youth Village.
Keilah gave presents to students and to the MindLeaps team. In a kind of folkloric dance mixed with hip hop, kids were not able to hide their joy. I heard many saying "thank you"' that day at the studio alongside hugs and big smiles. "Oh wow, this is an amazing space. I wish I could stay in a place where people are working, caring, sharing and enjoying every single moment of bringing hope to children," said Noella, an English volunteer from Agahozo Shalom Youth Village. "Oh my, this is the first time I have seen them so happy," said Keilah touched by the emotional dance moves of the kids.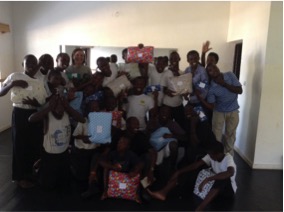 I cannot finds words to describe the image of that day, but I can advise others to consider sharing a small gift of support to make these children's lives better in the New Year.  Every single smile from a broken heart remains engraved somewhere. As we are celebrating the New Year, let's look around us, join those broken hearts and turn them into smiling hearts.
Eugene Dushime is the Country Director for RDDC Rwanda.  He is a former contemporary dancer and assists with the RDDC program in Guinea as well.