Bosnia-Herzegovina Blog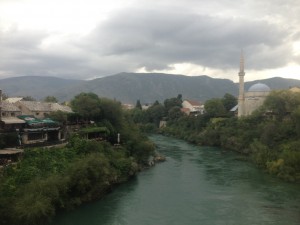 October 12, 2013
Rebecca Davis
This month, I am in Mostar, Bosnia-Herzegovina, training future RDDC teachers in our curriculum.  These teachers are preparing to go into the field to work with our students in Africa and the Balkans.  Part of their training includes a daily English class since our participants come from around the world.
Tonight's English class, however, was a slight deviation from "dance vocabulary" and "conversation practice".  We had film screenings of "Dance Up From the Street" followed by my Rwandan staging of DARFUR.
Little did I know that this would be such an emotional, special night for all of us – especially our three dancers from Ukraine.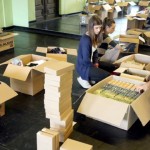 Osijek, Croatia
Croatian News Source: Glas Slavonije by Reporter Tomislav Levak
The management and the members of the dance group of Osijek's National Theatre had their hands full – but full of doing wonderful tasks. They had to open, look over, classify and take care of the contents of many boxes that had just arrived from the USA.  In those boxes were donations of ballet clothing and footwear costing approximately $51,724.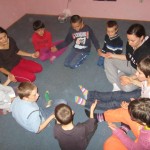 By Sanja Elezovic, RDDC/Bosnia-Herzegovina
December 12, 2012
As I wrote in one of my earlier blogs about street kids in Rwanda, it is my opinion that, here in BiH, we have some other kind of street: social networks and television. – Sanja
It's funny how time flies by and most of us aren't even aware of it.  We are always walking in the same cycle of our daily routines. Then, one day, we stop and look behind ourselves to see where we arrived and if we are satisfied with ourselves. But what will happen if we choose to look behind ourselves more often? To see what happened within and around us? Will we be more successful? And what is the success of our life? Once I heard a story with this message: "Everyone thinks depending on who he is." So, I think that everyone needs to ask himself this question more often and find his own answers.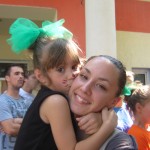 By Sanja Elezovic, RDDC/Bosnia-Herzegovina
November 15, 2012
Sanja shares her experience teaching children in the ethnically-mixed area of Brcko District, located in the northern part of Bosnia-Herzegovina.
After three weeks in amazing Rwanda, I continued my adventure going into a Summer Dance Camp in Brčko, which is organized by Firefly, a UK-funded NGO.  I was sent there to meet with my Country Director Tanja R.Tarčuki and Assistant Matea Jevrić from RDDC and RINGO to lead a dance camp for one week.  The week would conclude with a performance to show what we succeeded to accomplish with these kids and youth.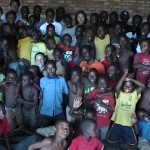 By Sanja Elezovic, RDDC/Bosnia-Herzegovina
September 10, 2012
Sanja is one of RDDC's dance teachers in Bosnia-Herzegovina.  In August, she spent three weeks teaching hip hop and social work methods to the RDDC team in Rwanda.  This was her first time traveling to and working in Africa.
"For some of these street boys, this is really their last chance to become someone."  – Sanja
With my first steps onto African land after exiting the airplane in Kigali, Rwanda, I became aware that I was stepping into my biggest adventure yet. Even though it was night and I couldn't see most things, I could feel through the fresh air that this is the right place for me. I couldn't stop smiling and thinking, "So, this is how you feel when you are ready to accomplish your dreams…"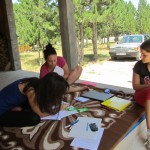 By Sanja Elezovic, RDDC/Bosnia-Herzegovina
August 4, 2012
Sanja writes about the team-building retreat for RDDC's dance teaching assistants in Bosnia-Herzegovina.
We all know quotes that emphasize repeating our knowledge to improve our understanding. This thought led our RDDC team in Bosnia-Herzegovina (BiH) to use our free summer months to invest more time and energy in evaluating what we have done in past months and how to keep moving forward in order to progress. We had our first teambuilding retreat at the end of July and hope to repeat the productive experience again in the future.   Read more…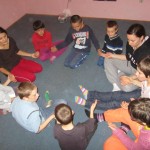 By Sanja Elezovic, RDDC/Bosnia-Herzegovina
July 29, 2012
"Children are not mean, so don't try to fix them; instead, let's change our attitude towards them."
Sometimes I wonder what is the purpose of so many rules, regulations and laws – especially when these are only idealized lines written in a blind ink by someone else. We write down, we read, we highlight, we repeat and we give more attention to the written word rather than look around ourselves and realize what goes on in the world. My words, which might seem unclear or not defined, refer to all possible rights and privileges that are taken as "holy" and, speaking in legal terms, guaranteed to every child no matter what differences exist between them. Then, I look around and I see children unjustly treated by the society they live in. It is not always the case of society's unjust treatment; it is also happening in families where children are not treated fairly due to ignorance.
By Sanja Elezovic, RDDC/Bosnia-Herzegovina
June 10, 2012
For nearly one year now, Rebecca Davis Dance Company (RDDC) and its local partner organization, RINGO, have diligently and patiently worked with children at Egipatsko Selo every day. Egipatsko Selo is a center for disadvantaged children living in one part of the city of Mostar in Bosnia-Herzegovina (BiH).
Through this program, children are exposed to the constant level of hard work and effort needed to learn new dance moves and develop socially-acceptable behavior. Many times we hear sayings that – through dance and movement – people can express how they feel. Each lesson requires certain rules and standards. The framework, which structures the whole group and which we give them through our dance lessons, creates a distinct and safe environment within where they can progress. This adds a whole new dimension to our work with a higher dose of complexity and challenges. Read more…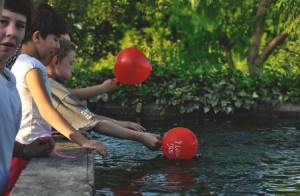 Sanja Elezovic, RDDC/Bosnia-Herzegovina
May 24, 2012
While I am walking through the streets of my town, I like to watch people and their mannerisms. What always suprises me – over and over again – is how rarely I am able to see smiling people. This emptiness I see in adults is what holds me tight to childhood. If that is the only period when we know we are truly smiling and sharing it with others, I want us to always stay there.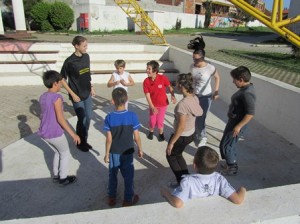 May 10, 2012
Rebecca Davis
It was exactly seven months ago that I was getting on a plane leaving Mostar and Bosnia-Herzegovina (BiH) after launching a long-term program serving children.  Now I am back here to see exactly what has transpired in my absence and what the future might hold for me, these children and our program.