GREED: The Tale of Enron (2009)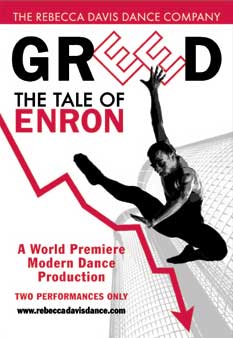 How can collapsing companies, massive job losses and corporate malfeasance inspire captivating art? Ask the Rebecca Davis Dance Company, the groundbreaking company whose original interpretations of contemporary issues have captivated audiences with stories from ancient myths to corporate scandals.
In the world premiere of GREED: The Tale of Enron, choreographer and company founder Rebecca Davis brings life to the many facets of the $100 billion rise and fall of the American energy giant Enron, a corporate scandal that foreshadowed today's fiscal crisis.
GREED: The Tale of Enron follows the careers of Enron Chief Executive Jeffrey Skilling and other executives including the late Kenneth Lay, Andrew Fastow and Cliff Baxter. Set to edgy contemporary alternative rock, the performance explores the rivalries, ambitions, deceptions, and greed that powered Enron's meteoric ascent. Enron lobbyists ensured the deregulation, triggering years of sky-high mark-to-market "profits" and stock manipulations – until the world demanded the real balance sheet. The resulting turmoil paints a stunning contrast between the poignant scruples and bold avarice behind a debacle whose echoes grow louder in today's economy.
"I'm always looking for the important stories that can be elevated to new awareness through dance performance," Rebecca Davis says. "Dance and the performing arts can be a powerful instigator for audiences to become more involved in real-life issues, and the lessons of the Enron story are so relevant to everyone's concerns right now."
As founder and Artistic Director, Rebecca Davis knows firsthand the challenges facing businesses today. The Rebecca Davis Dance Company is a non-profit institution that provides pre-professional dance training and creates ensemble productions of dance-theater works. The company is as unique as its founder; Rebecca Davis is a rare professional dancer-choreographer who holds a business degree from the Fox Business School at Temple University and is a Fulbright scholar in ballet choreography in Russia.
GREED not only explores the psyche of the executives responsible for Enron's meltdown, but also speculates on how its fate may have been changed by female leadership – exploring questions of leadership style and loyalty, gender and greed, and more.
– Written by Alaina Mabaso