September 17, 2011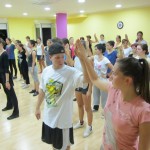 What would a dance look like if it wasn't just about movement, but about a particular theme?  Perhaps, something that inspires people or motivates them to make a particular choice?  With that in mind, a goal of the RDDC/RINGO program here is to creatively depict youth's impressions of the city of Mostar through dance, song, poetry and imagery.  This week, in our second full week of training, we began a short choreographic work about Mostar.
The inspiration for the choreography was generated by the participants' themselves.  Tanja Raic Tarcuki, the Program Coordinator, asked all of our youth to bring to our workshop a photograph, poem, song, or other object that reflects their personal attitude towards Mostar or their ambitions in life.  The range of items collected was impressive and diverse.  One participant brought a picture of a pointe shoe and wrote "I love Mostar" on it.  Another participant collected a series of images of old and new parts of Mostar and arranged them with a love poem found on a Mostar-based blog.  Yet another participant brought the famous poem Ostajte Ovdje (Stay Here) by Aleksa Santic describing how one can never feel at home in a country or city that is not their own.  From these sources, I had the daunting challenge of constructing a singular choreographic work that would reflect these nuanced opinions.
Thus, I approached this class with trepidation as I was entirely conscious of the fact that my choreography was intended to be a collective representation of these young people's statements of self-expression.  We learned the first sequences of movements before I explained any of the background or meaning behind the choreography.  I could see they were thinking, "what on earth is this supposed to be?"  Then, after they had memorized the combination, I played the music: Miss You by Trentmoeller.  Although there was a slight increase in "acceptance" of the movement, I still sensed great hesitation.
I proceeded to explain the story this choreography was intended to tell.  Suddenly, there was a huge change – as if 22 light bulbs had turned on at once!  We once again tried the choreography all together with music.  The reaction was entirely different, as was the quality of the movement.  With a deeper level of comprehension, the dancers looked completely engaged, energized and poetic.  As for the reaction, they burst into applause.  As Tanja explained to me later, "this is something that really is close to our hearts – it means something to us…It's not just dance; it's something more."