August 20 2011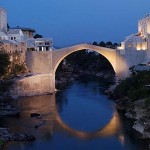 Although this is my third time to Bosnia-Herzegovina (BiH), it is the first time I have travelled here straight from Guinea in West Africa.  Needless to say, I encountered a little culture shock.

As the Director of a not-for-profit organization in the United States, The Rebecca Davis Dance Company (RDDC), I am currently traveling around the world to establish permanent programs that benefit underserved children by attracting them to dance classes followed by educational programs.  The educational component ranges from basic reading and writing skills to discussions on the issue of social inclusion and health practices.  On my third trip to BiH, RDDC has formed a partnership with RINGO MOSTAR to establish a program in the city in Herzegovina.
Coming from Africa, my first thought at the Sarajevo airport was simple: it's so clean!  Guinea, as one of the ten most economically depressed countries in the world, is far from clean.  I was greeted by Project Coordinator, Tanja Raic Tarcuki.  It was great to once again be around an independent young woman who is equally passionate and enthusiastic about the immense work that lies ahead for us.
Sarajevo is a beautiful city, but like Mostar, its scars from the 1992-1995 war are still evident.  Shelled buildings stand beside giant new shopping malls.  People selling fruits and vegetables sit next to business persons busy with their blackberries.  The contradiction of Sarajevo – and indeed BiH as a whole – makes it fascinating and important to each and every person in the world to visit and attempt to understand.
Certainly, the next seven weeks are sure to be full of excitement and surprises!