September 4, 2011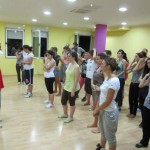 With excitement and a rather high level of anxiety, I am awaiting our first official day of the Mostar dance program.  Tanja Raic Tarcuki, President of RINGO Mostar, and I have spent the last week in meetings, discussions and preparations.  Now, it is nearly time to start with our participants.
It has been wonderful to see the enthusiasm to collaborate from other organizations in the city.  Part of our program will now serve the children at International SOS and Egipatsko Selo while other classes, offered at B-Dance, will involve youth as well as dance students from every corner of Mostar.  This diverse group of young people is sure to yield ino an interesting and eclectic final presentation that celebrates Mostar as a city as well as its youth as ambassadors.
For me, as a dance instructor, this program is unlike any other project my organization has carried out in the past.  In Rwanda and Guinea, my dancers and I work with populations of children that live in one particular area.  Often, they attend the same school – or in instances where we are working with street kids and orphans – they collect at a central community center.  Thus, there is a certain degree of uniformity from a geographic perspective. Here, in Mostar, our goal will be to work with as many students as possible throughout the city and then bring them together on Saturdays in preparation for our final public presentations.
In anticipation of the program launch on September 5th, hip-hop dancer Boris Zovko and I have spent the weekend busily preparing parts of the choreography for our classes.  We are striving to expose the students to as many dance forms as possible: ballet, jazz, modern and hip hop.  Consequently, part of the performance choreography is a mixture of hip hop and jazz-ballet.  Boris and I seem to have a lot of fun dancing it, so, if that's any indication, I think our students are in for something very cool!
And soon we will find out.