September 8, 2011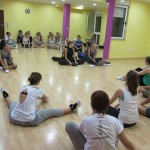 On Monday, September 5, I walked into the third floor studio, B-Dance, in anticipation of our first dance workshop with youth.  The class was scheduled to begin at 18.30h.  By 18.25h, only three young girls had arrived.  Tanja, our Project Coordinator, seemed at ease, but I was concerned.  Then, in the course of the next three minutes, 42 participants walked through the door!  Within seconds, the studio had become overcrowded and filled with chipper gossip and excitement about what would unfold in the next two hours.
We have an international word to describe this: COOL.
The best part about this moment was the actual atmosphere one experiences when there are so many young people collected in one spot eager to try something new.  If groups of young people could collect like this regularly all over the world, so many things could be accomplished – not just dance!
With my carefully selected music playlist of Enrique Iglesias, Justin Timberlake and Usher, the young dancers formed six lines and began to follow along with my stretching sequence.  You could easily hear: "aahh!"  "wow!"  "yeah!" "oh no!"…and a lot of laughter.  It is within an environment like this that all of us share a little of who we are and learn a little bit more about ourselves too.
It doesn't feel right to say "my students" when describing this group of young people because they already feel like "my friends" and "my peers".  Consequently, as a group of friends, we learned basic steps like pirouette, pique and pas de chat from a classical ballet vocabulary.  Thereafter, we mixed in jazz steps to form our choreography, which is set to a re-mix of Kanye West's Stronger. 
Exhausted and sweaty after two hours, I was happy with the launch of our program here in Mostar.  The beginning success is predominantly due to the hard work of our Project Coordinator, Tanja.  Now, if we start here…what will we achieve five weeks from now?