April 28, 2012
Fode Chouaibou KEITA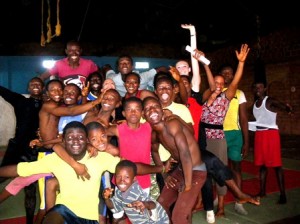 The Gangan Center of Arts and Acrobatics is a training center for children living in difficult conditions in Kindia.  It was created on March 24, 2008, in Kindia at Maison des Jeunes (the House of Youth).  After creating a partnership with the American organization, Rebecca Davis Dance Company (RDDC), the Center is now managed by a personnel team of three permanent staff – an Assistant Coordinator, an English Professor and a French Professor.  They work every day from 8am until 3pm with the exception of Fridays.
Today, the Center has 31 children who receive training in different domains, most notably ballet/jazz dance, hip hop, acrobatics, traditional Guinean dance, French grammar and English language.  They receive daily training in all of these things and receive breakfast and lunch on behalf of RDDC of the USA.
More soon…
Fode Chouaibou KEITA
M. Keita is the Assistant Coordinator of the RDDC/Association Benka-Fissa program.  He works closely with the day-to-day management of the program and follows the development of the children.
Un Centre d'encadrement en plaine évolution
avril 28 2012
CENTRE DE FORMATION D'ART ACROBATIQUE GANGAN, est un centre d'encadrement des enfants en situation difficile à Kindia, il est créer le 24 Mars 2008 à Kindia à la maison des jeunes de Kindia. Avec un partenariat réussi avec une compagnie Américaine, REBECCA DAVIS DANCE COMPANY, le centre est géré avec un personnel permanent (Un Assistant, Un Professeur d'Anglais et un professeur de Français) qui travaillent tous les jours de 8 heures à 15 heures sauf les Vendredis considéré comme jour de repos.
Aujourd'hui le centre a un effectif de 31 enfants qui reçoivent des formations journalière dans différent domaine notamment ( Danse Classique, danse Acrobatique, danse Traditionnelle et Hip hop, les cours d'Anglais et Français); en plus de ces cours de formations, ils bénéficient des traitements journaliers: (Petit dejeuné, Déjeuné et diné sans compter le jus tous les dimanches) toutes ces choses là ont été rendu possible grâce à REBECCA DAVIS DANCE COMPANY des États Unis.
Nous y reviendrons
Fodé Chouaibou KEITA