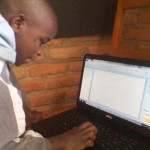 Kigali, Rwanda
August 31, 2012
Ssali Joseph Eugene
"With a big smile, Eric moved to the dance floor because he knew that it's only a few days until he gets to go to school."
The month of August has been the busiest month of the ongoing program of RDDC with the children at FIDESCO.  We received the international team of RDDC.  It has been a great experience for the children because they had classes with four teachers every day with different choreography and new movements, which increased the interest of our regular dance program.  You can imagine the children's interest with four teachers every day and they don't want to miss any of them because some of them are traveling from foreign countries just to teach them.
One particular interesting story involves two more kids who are joining school through the support of the RDDC program: Eric and Jado. These two boys started with the program since the very beginning.
Eric's aim has always been to learn something new, and he has always enjoyed dance.  He is one of the talented boys we have and we knew something great happened to him when RDDC he announced he would receive school sponsorship this September.  He can't wait to go.  Just the other day he asked me, "What's the date today?" I told him, and again he asked me, "When is the 3rd of September?" I told him the day and with a big smile he moved to the dance floor because he knew that it's only a few days until he gets to go to school.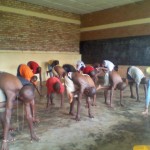 I'm so grateful that Eric got an opportunity to go to school because he never thought that one day he would be able to join school – just like any other child.  He now knows that everything is possible when you stand out and believe in yourself – regardless of what you are, what you went through.  Eric used to say, "It's over for me.  I'm just waiting to die."  Now, education is going to be his watch tower because he will be able to stand up high to see beyond his boundaries and figure out how to grow.
We were so encouraged and motivated by watching this change in Eric. I think it came at the right time.  It proved to us teachers that we are driving these young boys into a path that can truly help them. Together, we as teachers are people who understand what these children are going through and wish them to be happy.  We want to help them have a better tomorrow through the little that we can do now.
Ssali Joseph Eugene is one of the Rwandan RDDC dance instructors that leads the FIDESCO program.  He is a contemporary dancer and frequently organizes performances in Kigali.