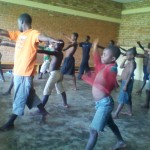 Kigali, Rwanda
November 20, 2012
Ssali Joseph Eugene
"The most interesting part is seeing a different person emerge out of the person that you used to know; the new person is not the same as the difficult child that began the program."
FIDESCO, RDDC's local partner in Rwanda, temporarily houses street children while attempting to locate extended family members and re-integrate the children into homes.  Usually, FIDESCO takes street children from "transit centers" around Kigali.  Sometimes it takes a long time to trace where exactly their families are located while also trying to understand the reasons why the children left home to live on the streets.
Since RDDC started working with FIDESCO last December, we have not seen many children leaving the Centre all at the same time.  Instead, they had been leaving only one by one. We have two classes that we have been working with at different levels: the first class is about 18 boys, which have been with us for some time; and the second class is about 20 boys of which 12 have been our most serious students over the last three months.
It is always rewarding going into the studio and seeing these young talented boys demonstrating new steps around the floor.  The most interesting part is seeing a different person emerge out of the person that you used to know; the new person is not the same as the difficult child that began the program. I'm not a parent yet, and I may not really know how it feels to see children of your own growing into mature people.  You used to carry them on your back and hold a cup for them to be able to drink and eat.  Later, you can sit with them and discuss certain issues. I also don't know how bad parents feel when their children don't listen to them and when their children don't understand their parent's plans for the future. But my little experience with the children who used to live on the street can help me understand when a parent talks about their joy or anguish that their children bring to them because I have been with them – not only being with them, but seeing them go from one level to another.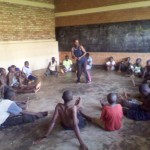 I think it's so good to hear a child change.  One time, he told you he would rather be on the street, and then after some time, he comes back and tells you that living on the street is not the solution for him.  I just have to be patient.  It feels good sitting with a kid and hearing different questions about how he can go back to school or how he can do better to please his parents or guardians.  The children are changing – not because you gave them something – just because they were paying attention to the advice and wanted to prove something by doing it.
As teachers and brothers of these little boys, we had a meeting and we were trying to figure out how we can still reach out to these kids who are taken back to their homes. We still need to know what's happening with them and how they behave. We want them to know we are still there for them in order for them to stick to the good decisions that they made and to encourage them.  We have a plan to visit at least four kids each month.  During their holidays, we want them to be able to come for dance classes.  Most of them are good dancers, and through dance, we have been able to communicate with them.
As a matter of fact, I just used to love kids but I had never worked with them until RDDC started work with FIDESCO. The best way I have worked with them is through dance. It was easy for me to tell them to concentrate in order to do some movements. I could turn that into life skills – like studying and tellng them you can't study well with your mind on and off.  They needed to learn to concentrate on what they were doing.  They also needed to understand they could not move alone when dancing; they had to move along with others and learn the story that they were telling together through dance. Thus, it is easy for me to encourage them to work together.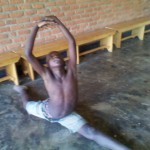 We want these street children to be able to come for dance classes in order to grow their talents and believe in themselves.  They can change and their past doesn't determine their future.  Today is what matters.
Ssali Joseph Eugene is one of the Rwandan RDDC dance instructors that leads the FIDESCO program.  He is a contemporary dancer and frequently organizes performances in Kigali.