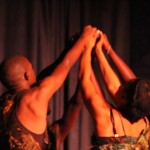 Kigali, Rwanda
December 1, 2012
Ssali Joseph Eugene
"Sometimes it requires more than just words for people to believe in you."  
On the 9th of November, RDDC performed its original contemporary ballet called Darfur in the East African Nights of Tolerance Dance Festival.  This ballet, choreographed by Rebecca Davis , was performed by three Americans and three Rwandans. Darfur is based on the conflict that happened in Western Sudan in a place called Darfur.  (It was created before Sudan split into Sudan and The Republic of South Sudan.)  It's main purpose is to show how war destroys families beyond repair.  We may look only at things which are tangible – things which are expensive to build, like infrastructure, the environment or people's property – but the most important thing, and the backbone of all of us, are our relationships, families, and friends. All the rest stands because of the relationship between people and families working together.
I performed as one of the Rwandans in this ballet.  For three months, we were rehearsing for the performance and the most challenging part is that the six dancers were not rehearsing together.  The three Americans were on their own in New York, and the three Rwandans were on their own in Kigali. My question was always the same: how will we put all this together in just a few days when our fellow dancers from America come here?  It's not so strange to someone who just sits and watches the performance, but we had only four days together to put all this into place and be ready for the performance.
This was going to be our first time to meet and do something that requires people who have known each other for some time.  We all know how it feels when you meet new people.  No matter how hard you try to be free with them, or talk to them and share life experiences, it will always take that time to really open yourself up.
Another challenge was to work and match our energy with the Americans. When we first went into the studio, I couldn't believe what I was seeing: energy, enthusiasm, the character was just perfect, the movement quality was just amazing…I would be lying if I said that I was ready to go on stage with them.  They were the first professional dancers that I have ever performed alongside. Surprisingly, as we started training together, everything looked like we were training for a long time beside one another!  It made me happy how we were matching, and I was energized even more by their commitment.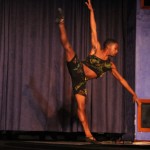 Dance is one of the things that I am so grateful to be doing in my life, but I always feel most happy when I am dancing for a purpose. Personally, I took this performance as a call to speak out: to wake up and fight for something worth fighting for and that is the importance of the family unit.  When the family unit is broken, every one is left with a wound that can't easily be healed.
During the performance the kids that we teach at FIDESCO were in attendance, and I really wanted to hear what they had to say about the show.  I remember one day we were sitting with the children after our dance program, and we told them that you can talk to people through dance and express what's on the inside through dance movements.  They didn't seem to understand it because they had never attended any performance of contemporary dance before.  With "Darfur", their perspective towards dance changed; they couldn't believe that it was us who they play around with that were now dancing on the national level!  Everyone was so attentive to what we were doing.  They couldn't believe that it was just dance which brought the Americans all the way from their country to Rwanda.
They now see the picture of what we always told them.  Sometimes it requires more than just words for people to believe in you. Our students really needed this and we needed it as well.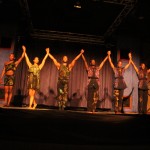 Ssali Joseph Eugene is one of the Rwandan RDDC dance instructors that leads the FIDESCO program.  He is a contemporary dancer and frequently organizes performances in Kigali.