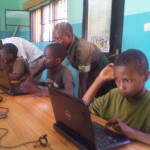 Kigali, Rwanda
May 10, 2013
Eugene Dushime
 "It hurts to be rejected by your proper mother two times. I spent many years on the streets looking for my mother who rejected me when I was born. I never knew that I was looking to be rejected for the second time when I met her at the Centre." – Moise Gakuba, one of the street children in RDDC's Rwanda program
Moise Gakuba is one of the few kids still at FidesCo who started with our program when it launched in December 2011. Moise was not interested with dance at all, but he used to attend and watch.  He would then play some games or draw outside while the classes continued.
At first, we noticed that this boy was interested in drawing and reading. He was quiet and very concentrated in his books or on his paper outside the dance class.  He came to live at FidesCo because he was rejected by his mother and his stepmother as a boy.  He realized that FidesCo Center would become his shelter for a long time. "After I closed myself from bad people in this world, I became mature.  I thought that my future would rely on what I am doing here at FidesCo.  It is important how I behave according to different opportunities offered by people that I meet here," said Moise.
Looking down trying to find something he may have lost, Moise added, "I think I lost my chance to be selected for boarding school, and I regret that. I was not looking far into the future at that time. I was like a blind person. But now I have got some experience about life. Before I was thinking that once I have a chance to meet my mother and go back home, I will get everything. I thought my mother was rich, but it was an illusion. She doesn't even love me; she's not even interested to know if I have grown up or what I look like. "
"It hurts to be rejected by your proper mother two times," confessed Moise with deep sorrow and tears in his pretty face. "My step mother rejected me many times too, but for her, I can understand it.  It is normal because I am not her son. I was surprised to see that my father didn't manage any effort to stop her or try to manage the situation.  I spent many years on the streets looking for my mother who rejected me when I was born. I never knew that I was looking to be rejected for the second time when I met her at the Centre."
"Now I know that FidesCo is my home," Moise continued.  "I have to come and follow all the programs here. It should be my chance to become someone in the future. I am happy that RDDC gave me an opportunity to learn computers. I am very proud of the knowledge I got in IT.  I feel like it is changing my whole life because, when I attend the IT class and get a chance to practice a long time on the laptop, I totally become absorbed by the computer.  Then I forget for a moment about my life's struggles. I wish I could have known that earlier. I decided to change."
Eugene Dushime is the Country Director for RDDC Rwanda.  He is a former contemporary dancer and assists with the RDDC program in Guinea as well.