Founder: Rebecca Davis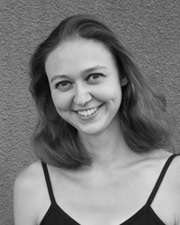 Entrepreneur and choreographer, Rebecca Davis has constantly sought a way to fuse academic knowledge with dance in order to create a powerful tool of expression and social change. At the age of 23, she founded The Rebecca Davis Dance Company, a not-for-profit organization based in the USA. Her personal background in ballet, business and international relations has shaped the mission of the organization and its use of dance as a tool of ethnic reconciliation in post-conflict countries. Rebecca is particularly concerned with creating opportunities for underserved youth that have the talent, potential and commitment to improve their lives and advance their countries.
Originally from Vancouver, Rebecca has choreographed and taught in Canada, Russia, Rwanda, Bosnia-Herzegovina, Guinea and the United States. She was classically trained in the Russian Vaganova method of ballet while studying in Moscow, Saint Petersburg and Krasnoyarsk, Russia. She received a degree in choreography from The Saint Petersburg Conservatory under the tutelage of Nikolai Boyarchikov (former Artistic Director, The Mussorgsky Ballet). She is a Loran Scholar, Fulbright Scholar and summa cum laude graduate of Temple University with a Bachelors of Business Administration in Entrepreneurship. She holds a Masters of International Relations with a concentration in Peacekeeping from American Public University System.
Rebecca has worked for The Carter Center (Atlanta & Conakry, Guinea), Stage Holding Russia (Moscow), and The Lincoln Center of the Performing Arts (New York City). Her award-winning business plan for The Rebecca Davis Dance Company was recognized as the most viable small business by the 2004 Annual Innovation and Entrepreneurship Competition. She is a two time Leeway Arts & Social Change grantee. Rebecca was a 2010 Carl Wilkens Fellow of The Genocide Intervention Network and currently serves on the Board of Trustees of Global Youth Connect and Fulbright Alumni Association of Philadelphia/Delaware Valley Chapter. She has been a guest speaker at Temple University, University of Pennsylvania African Studies Center, the Annual Fulbright Alumni Conference, Princeton University, and Brown University. Her work has been published in Broad Street Review and Dance Spirit Magazine.
Rebecca has choreographed six full-length ballets: Antigone (2006), Helen Keller (2007), Darfur (2008), Greed: The Tale of Enron (2009), Van Gogh (2009), and Braving the New World (2010).
Expanding the international impact of The Rebecca Davis Dance Company is currently the focus of her work. In the future, Rebecca hopes to build a professional international dance touring company comprised of street children from conflict zones.
To read about Rebecca's experience at The Carter Center: Rebecca's Blog